The Crockett Foundation Mission is to

Help Veterans & Service Animals
Helping connect people who can help non-profit veteran charities by providing veterans with help in all aspects of life!  veteran charity services can help with service dogs, military dogs, wrestling non-profit, support dog charities, and much more!  Also, by selecting the best veteran charity organizations together we can make a difference!
The Crockett Foundation has an international audience of wrestling fans at our fingertips. We thank Jim Crockett Sr., up above, for helping us get to this size, which gives us a wide scope of ability to help our community at large today. We've broadened our horizons and you're in a position to join us in some pretty important ways to help US Military Veterans.
Tag in and Help Out!
---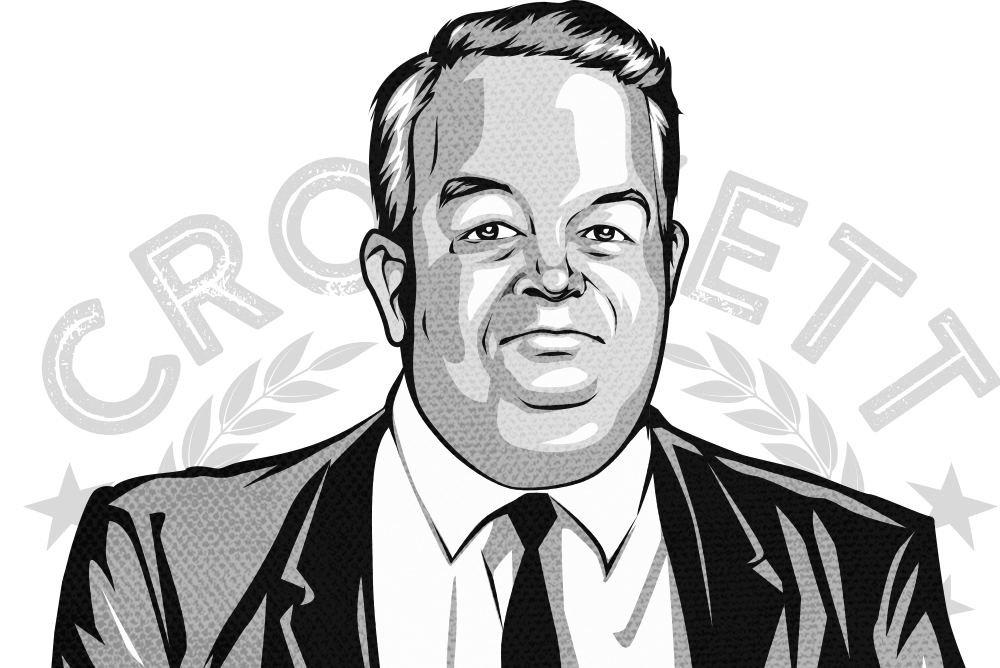 Jim Crockett Sr. was a pioneer of professional wrestling and baseball in the Carolinas. Through his legacy, the Crockett Foundation is infusing that same passion in helping Veterans as he once did baseball and wrestling. Through teamwork and leadership we are improving the lives of Veterans returning from defending our freedom and the struggles of life after service.

JIM CROCKETT SR. 1909-1973
How we select

The Veteran Non-profit Organizations We Work With

---
---
Step 1: Careful Vetting

We go to great lengths to verify and confirm the identities and goals of every charitable organization we work with. It's imperative that the donations we receive and distribute go to reputable organizations that are focused on making a positive changes in the lives of veterans in need.

Step 2: With Your Help

A big effort we're currently making is getting Veterinary Hospitals and Clinics onboard to link us with Veterans who need help with the medical bills of the retired military dogs they're caring for as pets now. The veteran that gives the dog a loving home through his or her golden years is solely responsible for the medical care of the heroes. We've contacted a long list of Veterinarians already and would like to enlist you for help in this effort too. Ultimately our veterans face many challenges but caring for a service dog alone doesn't have to be one of them. You can help by donating to a veteran non-profit organization.

Step 3: Veteran Non-profit

By providing veteran non-profit services and donations will help veterans perform their daily tasks! They have helped us, now it's our turn to give veterans the help they deserve! We are proud to be a veteran non-profit organization! If you are looking to donate to veterans you can help! By providing help to their service dogs, military dogs and veterans alike, they are better able to perform and lead productive lives after their military service.
The Crockett Foundation is supported by a myriad of legendary Wrestlers from the Golden Era of Professional Wrestling. From the "Nature Boy" Ric Flair himself to Legendary referee Tommy Young our Tag Team Partners help us in our quest to do all we can for Veterans and Retired Active Duty Military Dogs. Without the help of these incredible people, we could not do the important work that is still ahead of us. Please use the web page links associated with each Partner and help us show our thanks to them on a personal or corporate level for standing behind the Crockett Foundation.
Learn More
TAG IN AND

Help Out!
When you donate to The Crockett Foundation your money goes towards helping Veteran non-profit organizations that make veterans lives more livable.
Please join us by donating funds.  Our goal is to help Veterans during times of great struggle emotionally and physically, while he or she is suffering from mental illness brought on by their service to our country. By teaming up with the Crockett Foundation you can help those men and women who so boldly served to protect our country and our quality of life. Together we can also help provide trained Service Dogs, musical instruments for the music programs designed to relieve the stress of military service, and even yoga mats for the yoga programs that are now being used to relieve PTSD symptoms, just to name a few. The Crockett Foundation would like to team up with you on a mission to help veteran non-profit organizations.
Please join us by purchasing our newly published book When Wrestling Was Wrestling, by Dick Bourne, Debbie Ringley Mrozinski, and Jackie Crockett. It's chock-full of rare, vintage photographs from a wide range of wrestling events and appearances over the years. Lots of famous faces! Your purchase of this beautifully photographed history of wrestling book helps financially support the Crockett Foundation mission to support Military Veterans.
We're so glad to have you as a part of the Crockett Foundation family. Enjoy our website – and please, if you're able, make a donation so you too, can "Tag in and Help out!"
DONATE
---